Perseverance and Persistence in faith, patience with people with special needs and a mega dose of positivity relying on God's promises are all the key tenets of serving in the Praise Special Community ministry. I have been a team leader with Praise Special Community (PSCom) for several years and these are the precious lessons I have learnt.
I thank God for allowing me to witness the resilience of Gabriel and his family.
Gabriel and his family's journey has not been easy, with countless ups and downs. Just when they thought that they had moved a step forward, things could suddenly turn for the worst and they would end up going two steps backwards.
But they never gave up.
Gabriel Chen is a 17-year-old youth with special needs. He joined PS Com in early 2013. Prior to this, Gabriel, who has autism, did not attend church as his family was unable to find a church ministry that was appropriate for him.
When he first joined PSCom, a ministry that caters to people with special needs, Gabriel had many meltdowns. "The meltdowns would start even while on his way to Wesley Methodist Church, as he had difficulties adjusting to his new Sunday schedule," said Mrs Chen, Gabriel's mother.
People with special needs often take a longer time to get used to a new routine.
"I am immensely grateful for the love and support from the PSCom family. It is a God-sent cradle to nurture our special needs loved ones and to give all our volunteers involved in this ministry an opportunity to discover our capacity to love. Gabriel has received a lot of love from Mabel and her team of volunteers."
To make his trip less stressful, one of PS Com's volunteers offered to drive Gabriel and his family to church every Sunday until he is used to the new routine. It took Gabriel almost two years before he came to trust his PSCom teachers.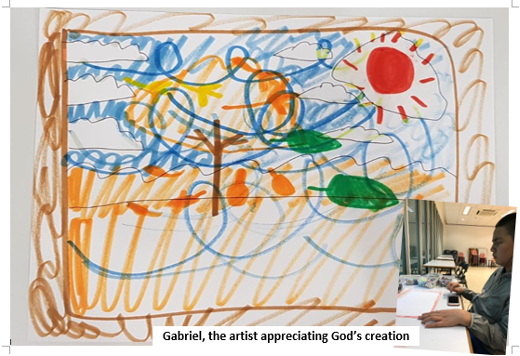 Gabriel saw that he was respected and unconditionally loved in this community.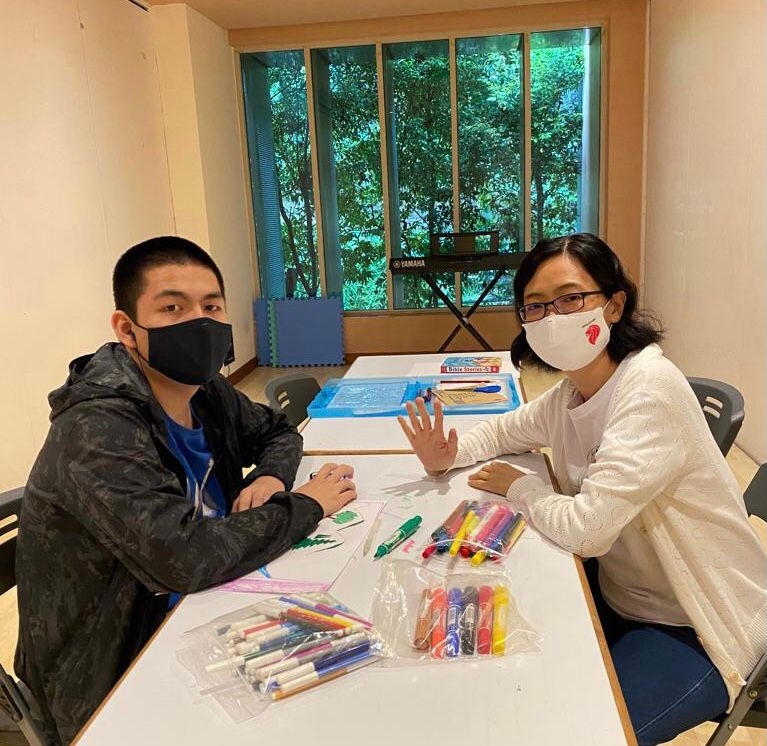 I recalled Gabriel's first few years with PSCom, when he loved to walk and explore the church premises: As Gabriel could not communicate verbally much, I tried to engage him by singing worship songs during our walkabouts. I recall feeling quite discouraged as Gabriel would not respond to me at all. All I could do was to ask him to pardon my bad singing and trusting God to use the songs to minister to Gabriel. But I remember an unforgettable moment when Gabriel joined me singing softly.
Mabel: Jesus loves me this I know, for the Bible tells me so. Little ones to him belong; They are weak, but He is strong. Yes, Jesus loves me; Yes…
Gabriel: Jesus loves me
Mabel (surprised): Yes, Jesus loves me
Mabel(grateful) and Gabriel: The Bible tells me so.
The PSCom teachers explored various ways to engage Gabriel, such as games and handcrafts, since he struggled with verbal communications. When we learned that Gabriel liked to draw, we started relying on visuals to aid our interactions and included drawings as part of his rewards.
Those who journey with people with special needs would likely relate to this uphill task — usually a lonely and painful one.
Mabel said that unfortunately, due to the lack of awareness amongst the majority population, people with special needs and their families are often misunderstood or misjudged. It is thus important for a faith community like Wesley to provide a safe and an inclusive environment for individuals and families.
If you wish to know how you could play a part, perhaps the next time you see a child 'misbehaving', resist telling the parent to keep the child at home, or even worse, intervene by disciplining the child. Instead, we could gently approach the parent to ask whether they need help, or just give them an encouraging smile.
It is heartening to know Gabriel now knows that Jesus loves him and he looks forward to coming to PSCom on Sundays.
Gabriel was baptised on 18 July 2021. It was one of the happiest days for PSCom, just to witness one of our precious ones going through his baptism.
About PSCom – Ministry to children with special needs
Founded in 1992, the Praise Special Community (PSCom) meets on Sundays at 5pm. Our community currently consists of over 20 children, youth and young adults with autism, cerebral palsy, Down syndrome or intellectual disability. It is a community to which persons with special needs can come just as they are to worship God together with the congregation without being misunderstood or judged. Most of our volunteers are not formally trained in special needs education and do not have prior experience interacting with people with special needs. Many joined PSCom lacking the confidence in how to interact with people with special needs or to "teach" biblical principles. It only requires one to faithfully put love into practice. In return, God allows us experience the ministering of the Holy Spirit to our special friends and He uses our special friends to bless us. Children with special needs can be found in many of our 'mainstream' Children's Ministry departments too. Sadly, the reality is that the needs (both in and outside of PSCom) are waiting for more willing hearts to step forward, so that every child of God can find their place in the family of Christ. Will you be that willing heart?
If you would like to volunteer with PSCom or find out more about us, please reach out to us at: cmteam@wesleymc.org
Read also: 54 Years of Faithfulness in Children's Ministry
Do you have an interesting story or testimony to share with us at Wesley TIDINGS? If you do, we would like to hear from you. Please email us at tidings@wesleymc.org.