A New Journey for Prayer and Praise Services
With the pandemic now entering a post-pandemic or endemic mode, Wesley Methodist Church is gearing up to welcome back more members at our on-site worship services!
In addition, for those of us who have been missing attending services at The Cathay, here's the exciting news: Wesley, the 137-year-old church on the hill, is now the church at the heart of our city, as we bring two services right to the heart of Orchard Road.
After calling The Grand Cathay cinema on level 6 of The Cathay building at Handy Road home from 2017 every Sunday morning, Wesley@Cathay has moved to another location. The Cathay Service has moved nearer to another venue in the centre of town – Cineleisure Orchard.
Moreover, Prayer & Praise (P&P) 11.30am@Wesley Hall has also moved to Cineleisure Orchard as the Wesley Hall undergoes renovation works.
Hence, from 1 May 2022, there are two services every Sunday, at 9.30 am and 11.30 am at Cineleisure Orchard.
"We are really excited about the move and look forward to welcoming our members at Cineleisure Orchard. Many of our members have been with us all these years at the original Cathay. We are also looking forward to welcoming more new friends to our Cathay services," said Pastor Clement Ong, who oversees the P&P services.
A Throwback to the Cathay Service
Wesley@Cathay first opened its doors to welcome Wesleyans and worshippers new to Wesley, on 7 May 2017.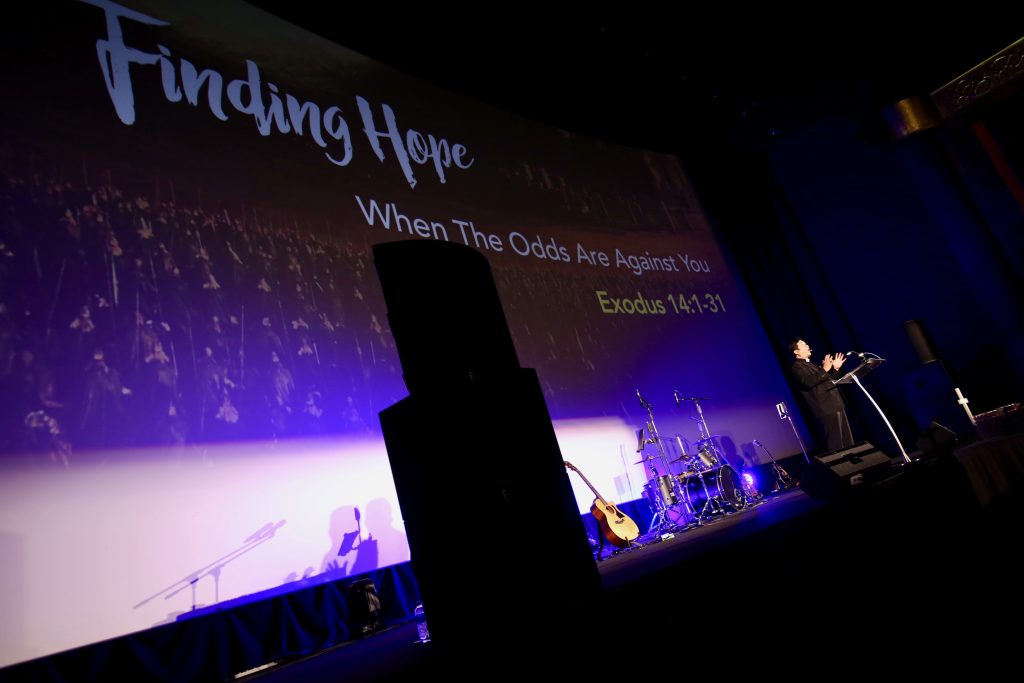 Wesley@Cathay is a contemporary worship service where people are welcomed, accepted, and valued with the love of Christ. It is Wesley's venture beyond its four walls at Fort Canning to live out its calling to reach out to be a light in the city.
Charis Lim, Chairperson of the Wesley@Cathay Committee since its inception, recalled the reasons behind its foundation and formation: "The Wesley@Cathay service was birthed during a season of reaching out and growth that the Lord had blessed us with. Our P&P Sunday morning services were operating at full capacity, and we had to create space for them. But more importantly, Wesley@Cathay was a powerful testimony of us stepping out in faith as Wesleyans, to reach out beyond the walls of Fort Canning to grow God's Church, to build new communities, and to impact the city for His glory!"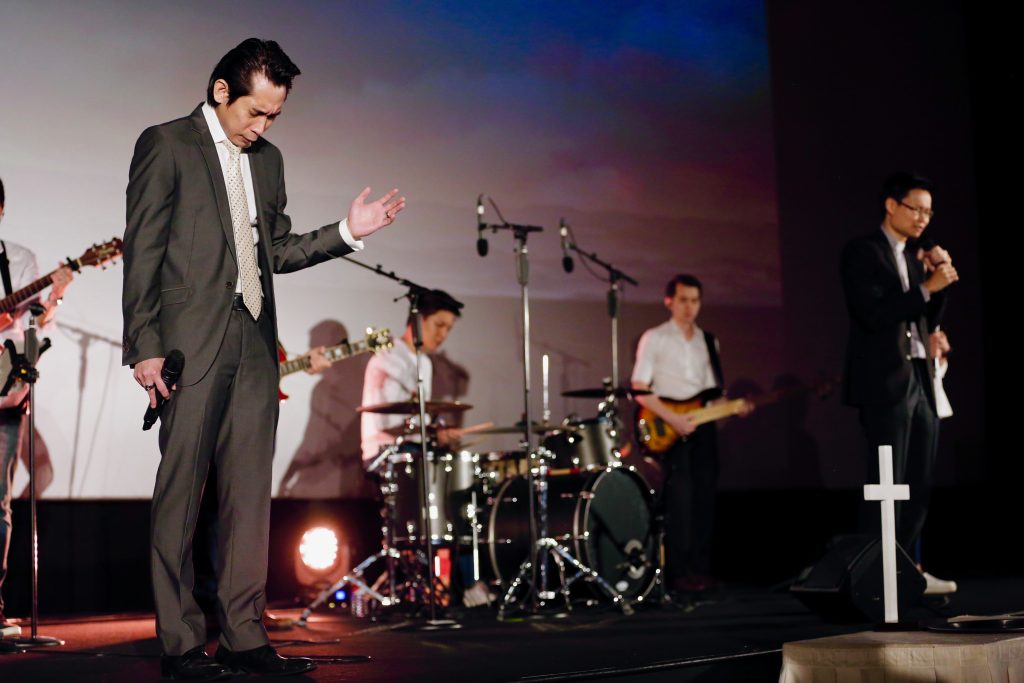 The Cathay venue at Handy Road was ideal for Wesley because it was near the main church building where many of our members' children attended Sunday school. It was popular with many of our church members who drive because of the limited parking space around the Fort Canning area. The location was also right smack in the heart of many schools and art institutions, and it was the desire of the pioneering team to reach out to the students in the vicinity.
Wesley@Cathay started with an initial average attendance of 300 congregants to about 450 just before the services had to be suspended due to the pandemic in 2020.
The pastor who had worked very hard to bring this to fruition was Rev Benjamin Lee, now the Pastor-in-Charge at Toa Payoh Methodist Church. He and his dedicated team of leaders, pastoral team members and volunteers had worked tirelessly to get the Wesley@Cathay services project off the ground.
In his message to the team of volunteers after the first day of the service, he said this to thank the team for pulling together to start Wesley@Cathay: "Thank you for all your hard work, and how you have really poured your hearts out to honour the Lord and to love His people."
A team of over 60 members, comprising pastors, church staff and volunteers, helmed the services on the ground every Sunday, leading worship services, setting up refreshment corners, ushering worshippers from the car parks and elevators, and distributing Sunday service bulletins.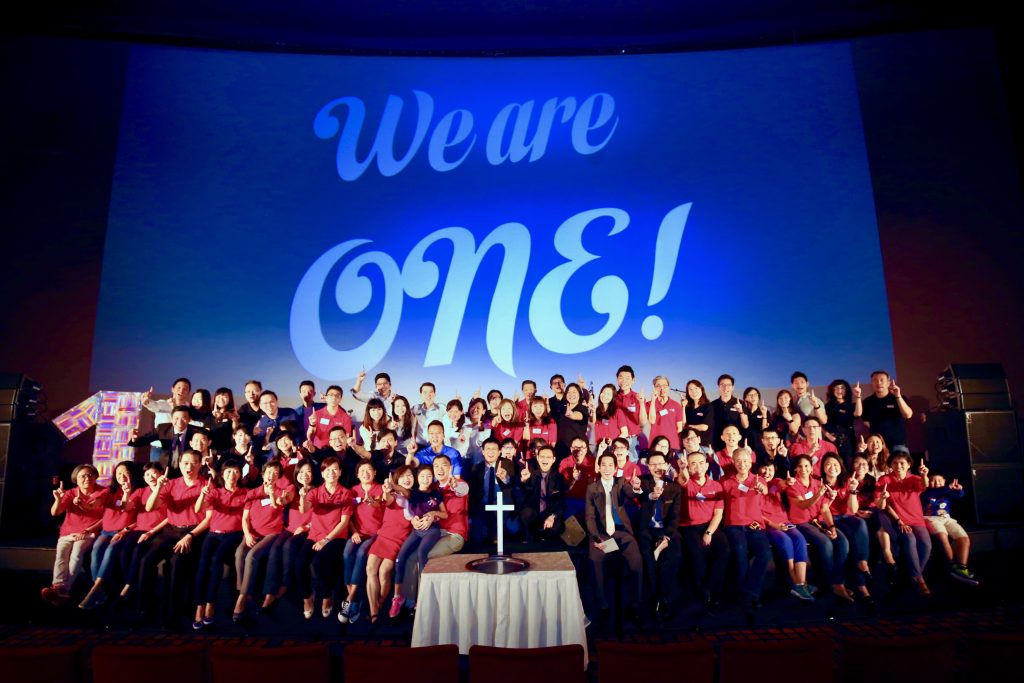 One of the volunteers from Day One is Eric Ang. He recalled not knowing what to expect when he first responded to the call for volunteers to serve at Wesley@Cathay. He found it very gratifying to find so many volunteers stepping forward to serve not only as individuals but also as couples and families with children.
Eric described the dedication and hard work of the team: "They were not dissuaded by the early and long hours every Sunday morning. Between 6.30 and 7.30am, about 80 volunteers — from the Technical and Creative teams, worship leaders, greeters, ushers and logistics support staff — would arrive to prepare the ground for the 9.30am service. By the time they pack up and leave, it is around 1pm."
"Our youngest volunteer was only 10 years old, and we are one happy family in God's house."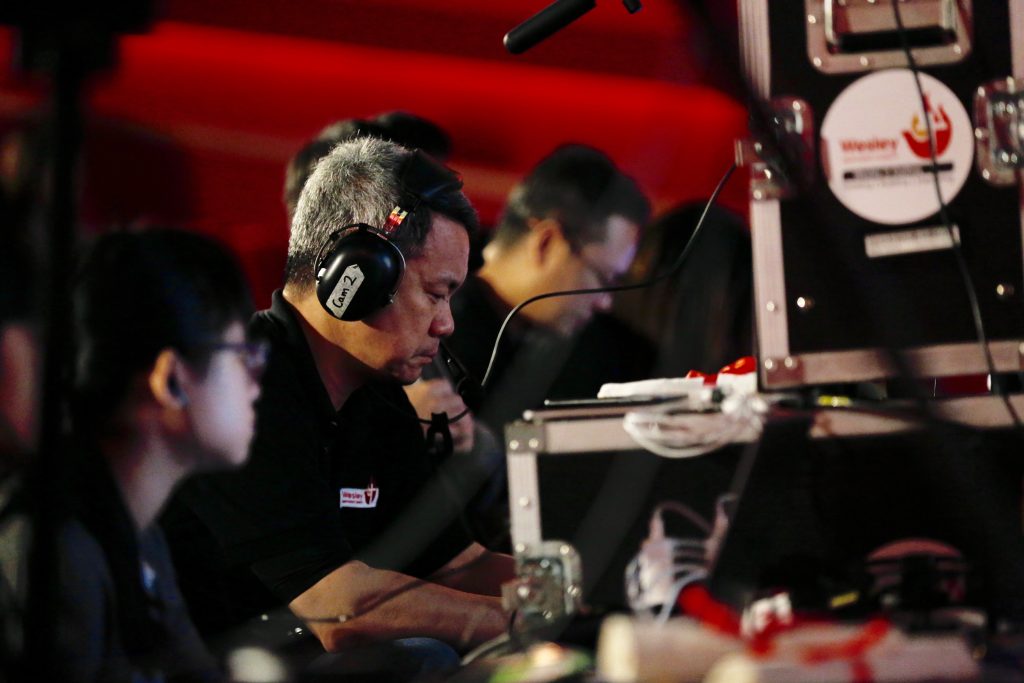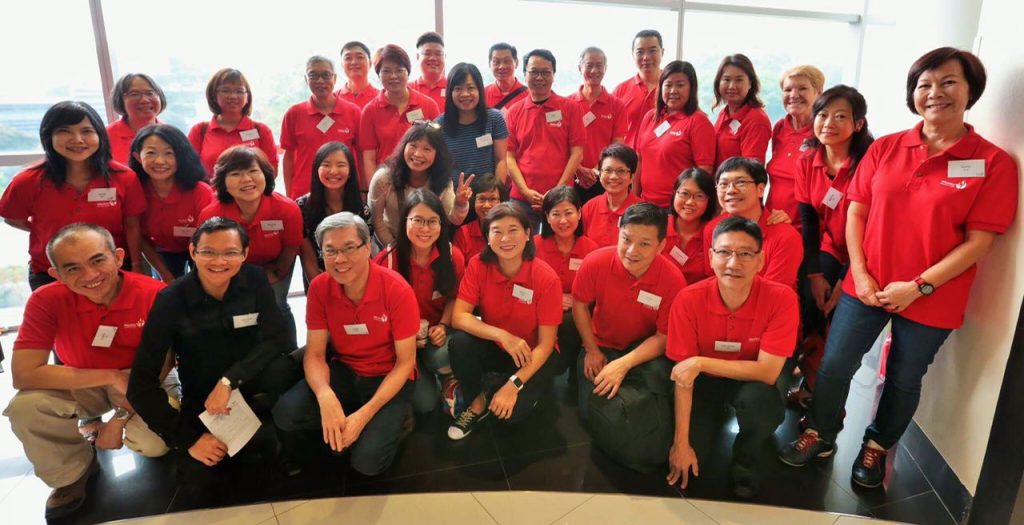 Said Eric: "We also tried to give our worshippers and friends a different worship experience whenever we can. For our Christmas services, our Welcome Team added to the Christmas spirit by dressing up as shepherds and three wise men."
Another volunteer, Esther Gooi, who has been serving at Wesley@Cathay from Day One in 2017 remembers the great teamwork and camaraderie among the volunteers and staff team: "I started as a volunteer on the Creative team and was asked to join the working group in February 2018. We were not a committee yet at that time as we were still considered a special project and not a service."
"Subsequently, I served as a stage manager every Sunday at Cathay."
Esther shared how she experienced God through serving in Wesley@Cathay: "God was there with us every step of the way — from not having enough volunteers at the beginning, to having to learn the various aspects of running a Service offsite, and handling technical glitches during services. He has always provided whatever we needed. Serving at Wesley@Cathay with God's people also helped me experience His love and grace through His community, through the various small acts of kindness and weekly encouragement from the team."
The Cathay became the team's second home every Sunday as they used that dedicated space to bring the message of God to the people.
From 2017 to 2020, Wesley@Cathay was a safe space for anyone who wanted to grow in Christian discipleship or simply to explore Christianity.
The regular Sunday services were not the only events that Wesley had brought to The Cathay.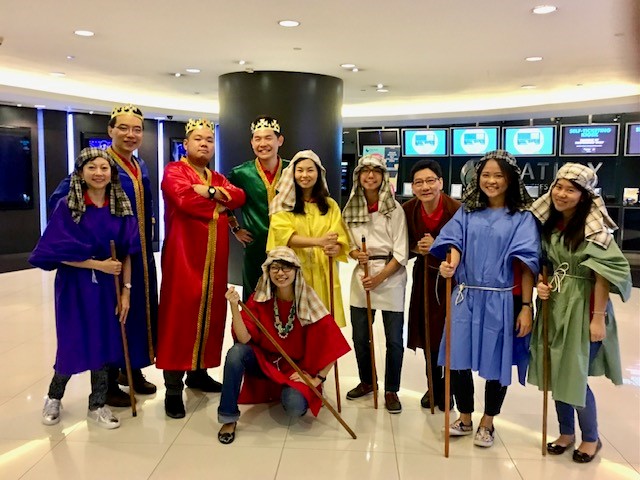 Christmas@Cathay in 2018 and 2019
Apart from holding the Sunday services, the Wesley team would work with the mall management to bring special events to The Cathay on special occasions like Christmas, when they collaborated with Celebrate Christmas in Singapore (CCIS) to bring the Christmas cheer to the Orchard Road belt. CCIS had been spearheading and organising Christmas events and activities that take place along Orchard Road with the wider Christian body in Singapore for many years, and they had looked to extend their reach farther along Orchard Road.
Two such events were the Christmas bazaars in 2018 and 2019, when Wesley brought yuletide cheer to The Cathay by helping to organise and bring in bazaar stalls, carolling and activity workshops like balloon crafting and terrarium building. There was also a stage with performances scheduled.
The objective was primarily to share the real Christmas story through stage performances, workshops, and other free activities.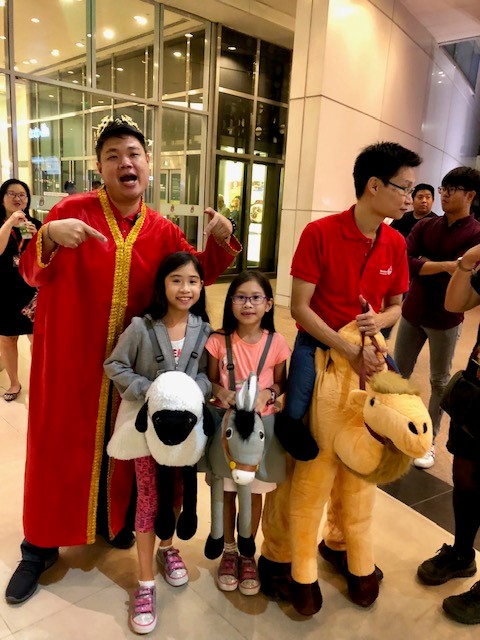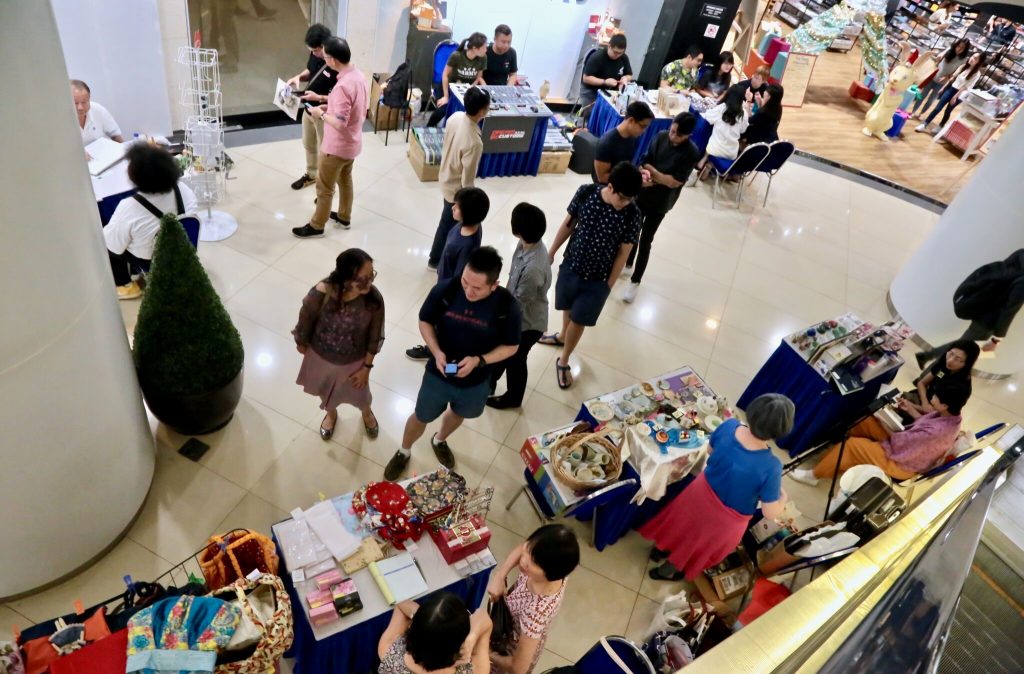 Suzanne Yong, then church staff for Wesley@Cathay, said: "We were invited to participate in CCIS in 2018. We partnered with CCIS, Singapore Youth for Christ and The Cathay mall management to start the Celebrate Christmas@The Cathay, following the approach modelled by CCIS, such as staging performances and organising interactive activities to share the Christmas story".
Suzanne said that Wesley Methodist Church had seen the potential from this first outing, and therefore, "worked on expanding the reach the following year to include a Christmas market and many more activities and workshops. As such, we were joined by more partners such as Overjoyed, an arts and crafts store in The Cathay, and many local and international artistes, designers, and craftsmen."
In 2018, Wesley staged about seven live performances and offered three activity booths over three days at The Cathay atrium. In 2019, Wesley blessed the local creative community by providing Christian and secular artists, designers, and craftsmen the platform or avenue to showcase, share or sell their work to the event visitors. Wesley had also staged 10 live performances and two art demonstrations by the Wesley creative teams, and both local and international artistes.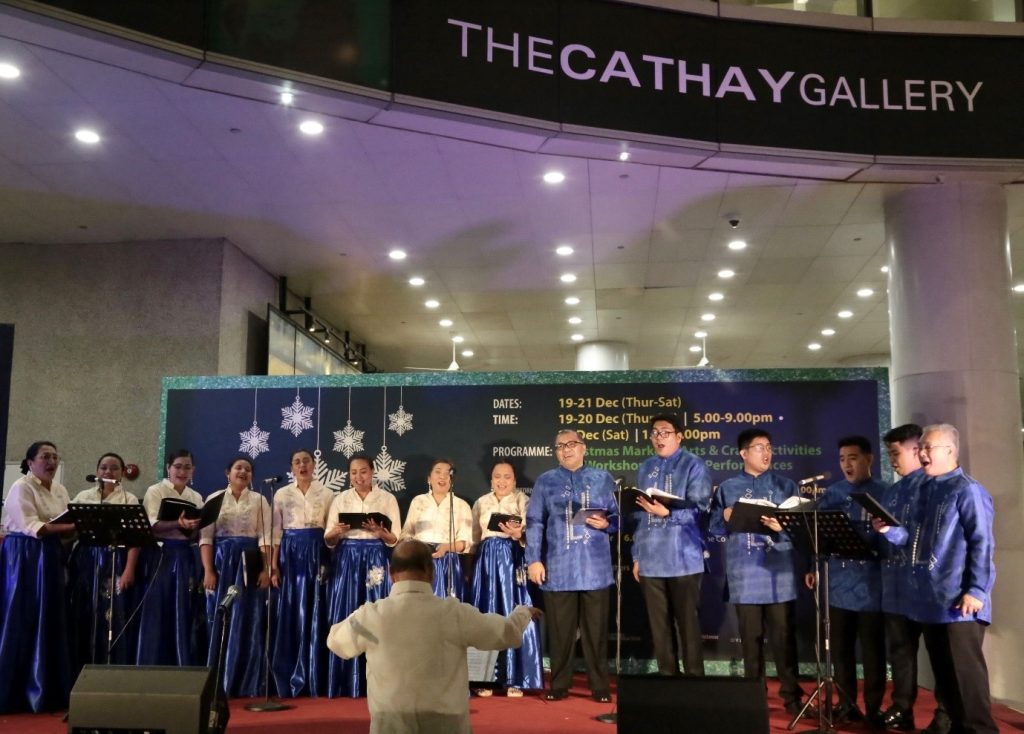 At Wesley, we are not only a church on the hill. We are also a church that brings the gospel to the world.
We are in our community.
The New Cathay
After five years, on 1 May 2022, Wesley@Cathay has moved on to another venue.
The Cathay Cineleisure Orchard Hall 11 is now the new home of the Wesley Prayer & Praise services.
Said Mr Nijendra Mahendra, Chairperson of Prayer & Praise Ministry, who is overseeing the project of the move, "By the grace of God, we have been blessed with another wonderful location to bring God to our community."
"One of the most challenging decisions we faced was the selection and securing of a venue when we heard that we needed to vacate The Cathay. But our God has shown us that when we seek Him, as we wait upon Him and discern together, He always provides and has guided us clearly to the venue of His choice."
Indeed, prayers have undergirded the team looking after this project.
Pastor Clement said P&P has learned and grown as a ministry and what it means to lean unto God in times of uncertainties, and unto each other in encouragement and with perseverance during the pandemic.
Giving thanks to God for the services and ministry opportunities that they have had in the last five years at The Cathay, he said, "From an extension for our P&P congregation to establishing an outreach mandate through Christmas programmes collaborating with The Cathay management and Blessing projects to pre-believing communities, we are amazed at how God has moved us to be a blessing not just to our congregation but also to our neighbours."
"Surely by His Spirit, He who is faithful will continue to watch over us through it all, as we build His house of Prayer and Praise."
—–
Come join us at the Wesley Prayer & Praise Service every Sunday at 9.30am and 11.30am, at Cathay Cineleisure Orchard Hall 11 on level 6!
At Wesley, we passionately seek to encounter God and are inspired to impart the Word by living out our faith. Wesley on-site and live stream Prayer & Praise Services, a contemporary worship service by Wesley Methodist Church, commence on 1 May 2022 at Cathay Cineleisure Orchard.
For more information about the Services, please contact maureenh@wesleymc.org
Directions to Cathay Cineleisure Orchard by public transport:
By Bus : 7, 14, 16, 36, 65,77, 106, 111,123, 124, 174, 175, 971, 7A, 14A, 36A, 36B, 174, 175
By MRT : Somerset station
---
Photos by Chris Leong, Samantha Poo and William Lim.
Read also: Wesley@Cathay – the Closing of a Chapter