Faith Journey of Philip Yuen, a Champion for Wesley Small Group Ministry
Have you ever wondered how much a church volunteer would go to serve God and others?
At 74 years old, Philip Yuen is a spiritual marathon runner for the gospel. He has been sowing, nurturing and blossoming many Small Groups (SG) at Wesley Methodist Church for eight years.
"I'm merely an instrument for God's work. He alone equips and enables," said the cheerful and vivacious Philip.
Philip has been a champion for the Wesley Small Group Ministry (SGM) for the past eight years.
As Assistant Pastoral Care Zone Leader of Zone 11 in the SGM, Philip is the liaison between the SG members under his care and the ministry. He facilitates SG meetings, plans activities, solves problems, strategises on improving communication and curriculum, and prays for his SG members and leaders. Philip oversees the Living Water SG and 11 other SGs.
Under his initiation and purview, Philip has started no less than 12 SGs, all of which he is still a part of and actively serving.
It is no wonder that he is known as the unofficial SGM spokesperson. "Philip is one of the most active and enthusiastic SG members in Wesley. We know we can always count on him to make anyone feel warm and welcomed," said Gerhardine Foo, the pastoral team member (PTM) for SGM at Wesley.
But that is not all.
Besides serving in SGM, Philip also serves in the Welcome Corner. He is also the team leader of the Watchers at The Saturday Service (TSS), a Communion Steward, a facilitator for the Alpha Programmes, the Baptism and Membership Classes (BMC) and other church-run series such as the Jonah Studies and the current weekly lunchtime Roman Sermon Series.
Not one to idle, Philip had also served on the PCC (Parochial Church Council) of Yishun Christian Church (Anglican/ Lutheran). He had been the Synod Representative at the Anglican Diocesan Board for several terms. He had also sat on a couple of school advisory boards (SACs) and chaired a parent-teachers committee. He is also an active community leader.
Philip's heart for serving started five decades ago, in the1960s, when he was just a young boy.
Growing Up Years
Like any young boy around his age, Philip was an active and playful boy when he was in primary school.
As the youngest of eight children, Philip was often doted upon and brought up prim and proper by his father, a renowned tailor. The elder Yuen ran a successful tailoring business called Tai Heng and had ensured that all his children look spiffy and dapper, even at a young age. "I was already spotting a suit and tie at a young age," recalled Philip. His father then opened Universal Tailors at the then British Naval Base, at Sembawang. Philip was then known as the Sailor-Tailor!
Philip's mother was a Catholic, while his father attended St Andrew's Cathedral for a short time. As Philip's father was a busy businessman, the family was cared for by their ma cheh (girls or women employed by a family to clean, look after children and perform other domestic tasks).

Nevertheless, Philip's elder siblings had always insisted that he did his fair share of housework Therefore, Philip learnt to cook and was very independent at a young age. As his parents had passed away when he was in school, Philip's elder sisters, Lilian, Mary, Joyce and Lily, had to take on their mother's role of looking after their youngest brother.
Philip's sisters, Joyce and Lily, and their elder brother, Jimmy, had brought Philip to Wesley Methodist Church. They started with Sunday school before Jimmy roped in Philip to join the fun and games of the Life Boys, which was the junior section of the Boys' Brigade (BB) in 1956, when he was just eight years old.
"Boys' Brigade had blessed me with the rich values inculcated in us by our captain and leaders. It also taught me to serve the Lord with whatever I can offer Him."
By the prevenient and justifying grace of God, Philip had accepted Christ at a Sunday School Camp when he was in Primary Five, responding to an invitation by Henry Khoo, his Sunday school teacher in the 1950s.
"It was so apt that my spiritual eyes were opened when I received Christ at the School of the Blind at this Sunday School camp."
In his teenage years, besides BB and church, Philip was also active in Youth For Christ (YFC) and Methodist Youth Fellowship (MYF).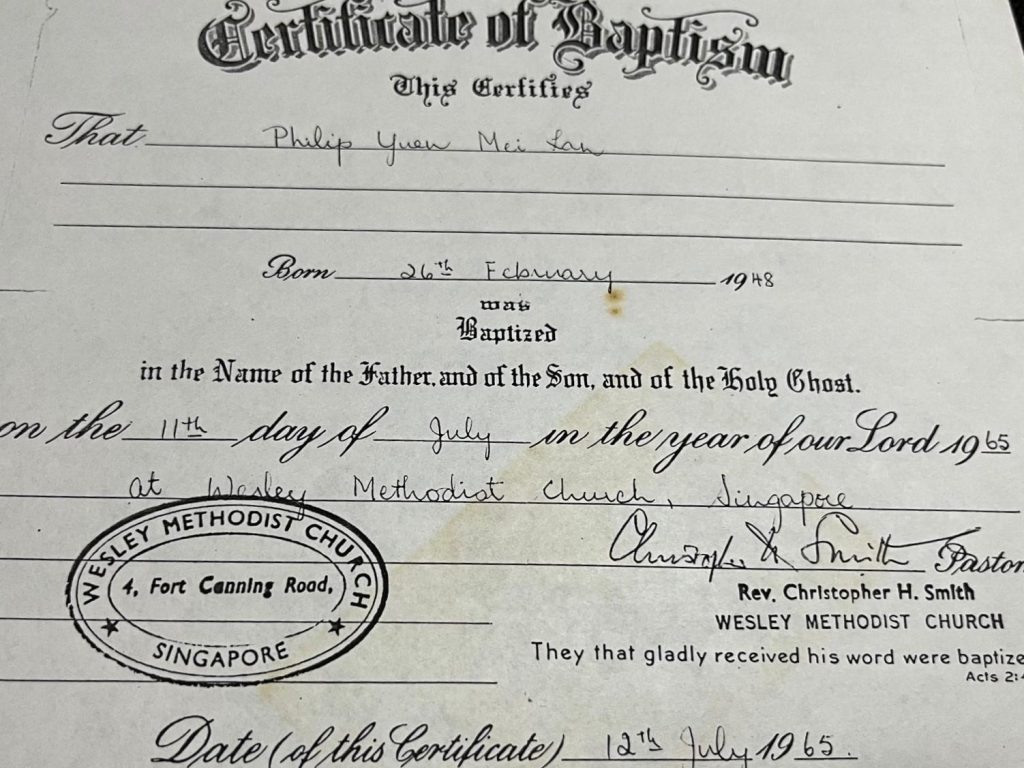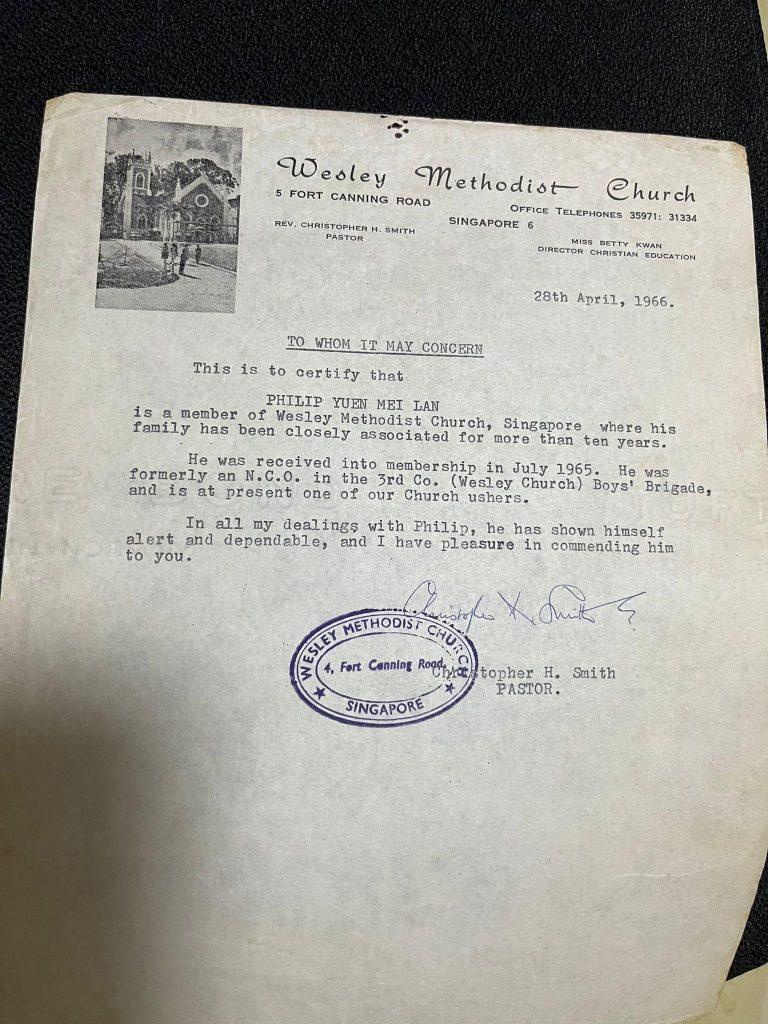 God's Hands Are Never Short
Philip attended Anglo-Chinese School (ACS) until he had to leave pre-university to help manage his family's booming businesses — by then the family had a chain of shops all over Singapore.
The Coleman Street area — where Philip grew up — was also a neighbourhood overrun by rival gangs battling to control their territories in the 1950s and 60s. The area was near the present-day Clarke Quay, and it was rife with gang fights and rivalries, gambling and opium activities then.
Philip had his fair share of excitement and experiences during the 1950s and 1960s around the gambling and opium dens and aggressive, rowdy drunken soldiers and sailors. He also watched and befriended the local sam seng kia (a Hokkien dialect term for gangster or hooligan) who used to rule over Hock Lam Street, Chin Nam Street and Coleman Street.
"I didn't know better then, and there were many hooligans and gangsters in the area. Gang fights were common occurrences. These gangsters had no fear and no mercy. Vice activities were going on all around me as I was growing up. It was just part of daily life then."
"I could have become a sam seng kia myself if not for the fact that I knew the Lord."  
Although Philip did not join any gangs or get involved in their activities, he knew many who also lived or 'worked' in the area. He and his many friends had looked up to a gang leader, Michael, in particular, who never hesitated to stand up for his friends. "I used to stand up to bigger sized bullies to 'protect' my 'brothers' and took up various martial arts. Some neighbours used to call me 'Chilli Padi'."
However, Philip's impression of Michael changed one day when he saw how Michael landed in hospital when he was attacked viciously in a street fight. Michael had gone from a hero to zero. "Michael had looked so helpless and weak, battling for his life on the hospital bed."
"It was an instant wake-up call for me. I decided that I must follow Jesus faithfully in my life. Over the years, I have reflected and wondered what I would have turned out to be had it not for God's merciful hands upon me. I realised that having head knowledge of the Lord is never the same as humbly serving and practising what Christ commands."  
God's Providence through Career
In 1968, Philip decided to join the teaching service as he felt led by God to teach the younger generations. He was appointed to several schools, including National Junior College in 1976. A year before that, he married a beautiful young lady, Helen Mah, who later started and captained the 13th Company of the Girls' Brigade.
"Helen has been my pillar of support since the day we were together to this day. We celebrate our 47th anniversary this November," shared Philip.
"I am always grateful to Helen and my children for their support as I had spent much time away overseas and then doing voluntary work in the community and the church. I could not have served so actively without my family's understanding and support."
Philip had spent several years working in International Schools in Singapore, China and other countries before returning to Singapore in 2014.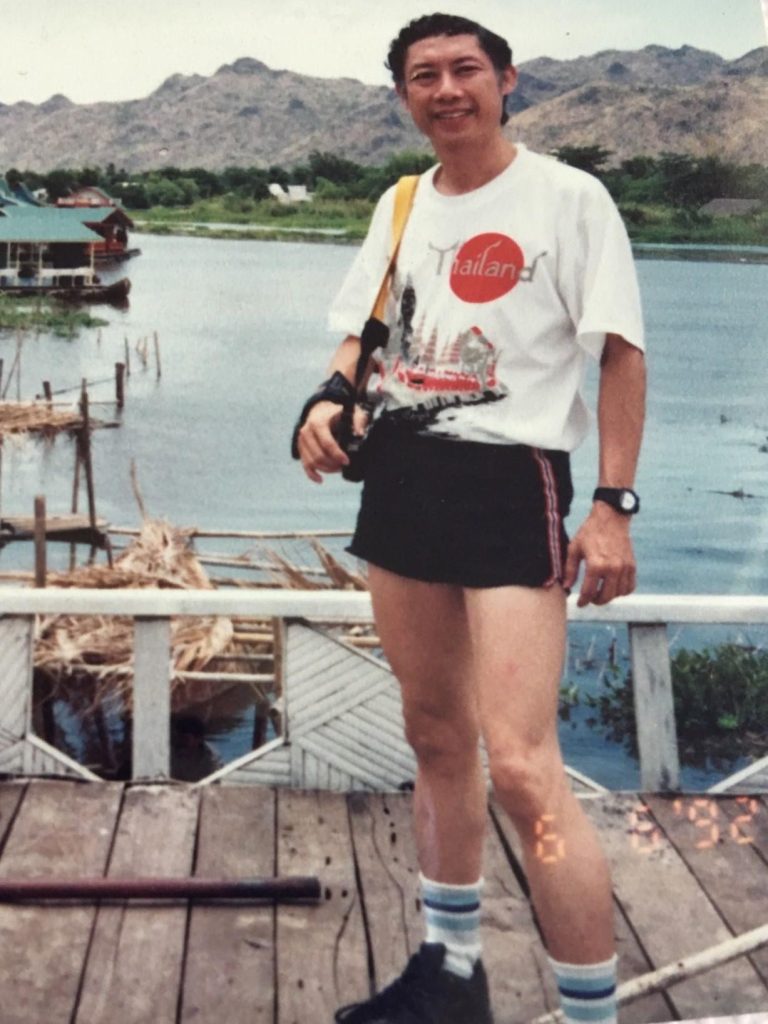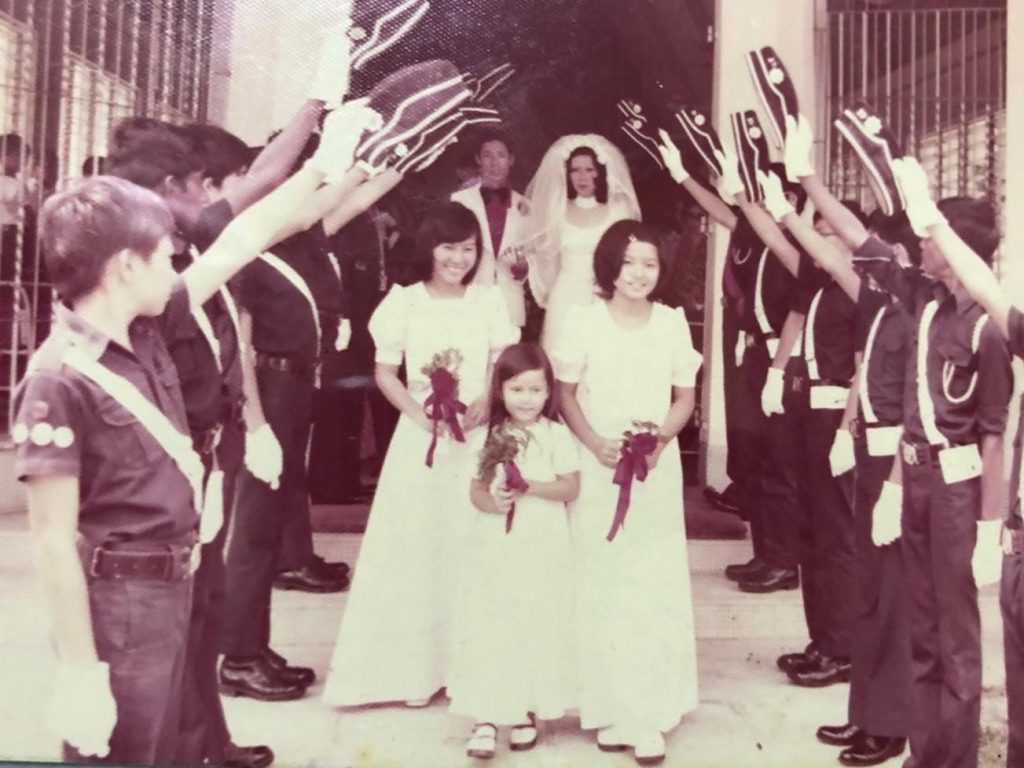 Back to Home Ground – Wesley Methodist Church – in 2011
After spending years based abroad teaching in and running international schools, Philip came home in 2011 to continue on project basis till 2014.
"Life came full circle, and at 64, I find myself back in my beloved Wesley Methodist Church again."
After participating in the Meeting Jesus In The Gospels campaign he was invited by his facilitator, Albert Lim, to form a SG which brought about the start of the Living Water SG in May 2014.
Although Philip came back to his home church in his 60s, his enthusiasm for the Lord had not dimmed, and in fact his zeal and devotion for the Lord and His people were renewed from his experiences with the International overseas churches and various missions trips and stays overseas. Besides serving fervently, Philip also makes time for his own spiritual self-development. Over the last few years, Philip has attended the DISCIPLE Programme at Wesley and a series of leadership competency sessions at Tung Ling Bible School and St Andrew's Cathedral.
Philip also received his training for overseas missionary trips with the international NGO, OMF, Grace AG and the Anglican Diocese. He served on missions, educational and training trips to India, Thailand, Laos, Vietnam, China and Cambodia.
He said, "I have always remembered what one of my spiritual mentors quoted from the scriptures: 'What good is it for someone to gain the whole world yet forfeit their soul?'"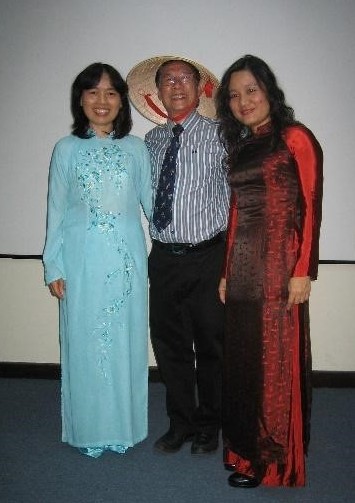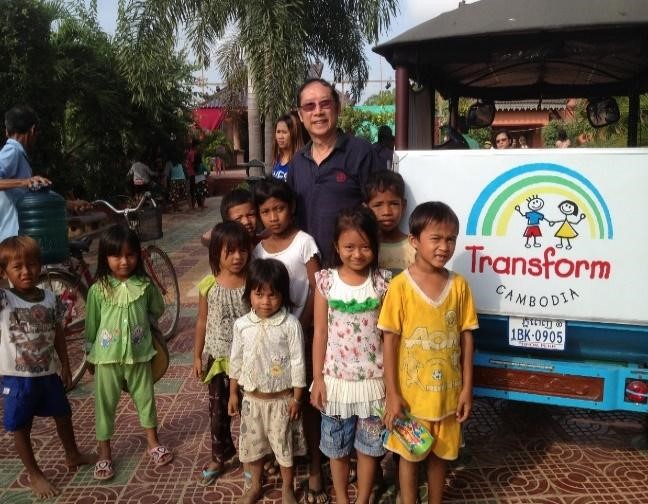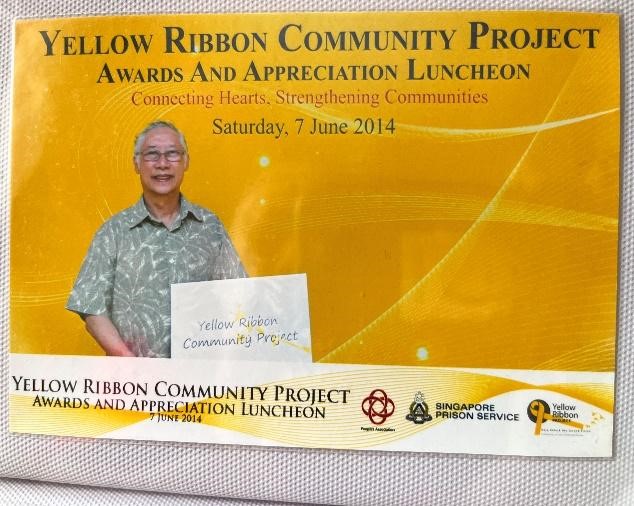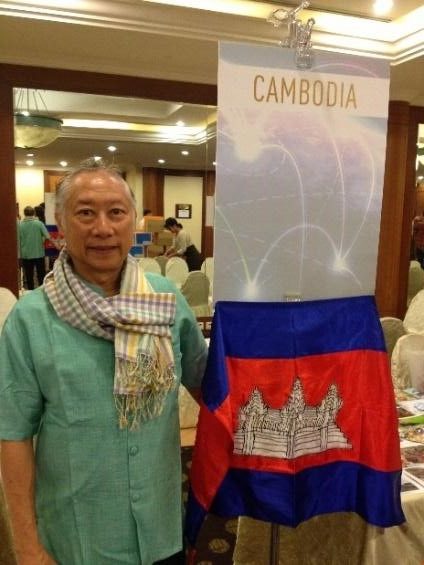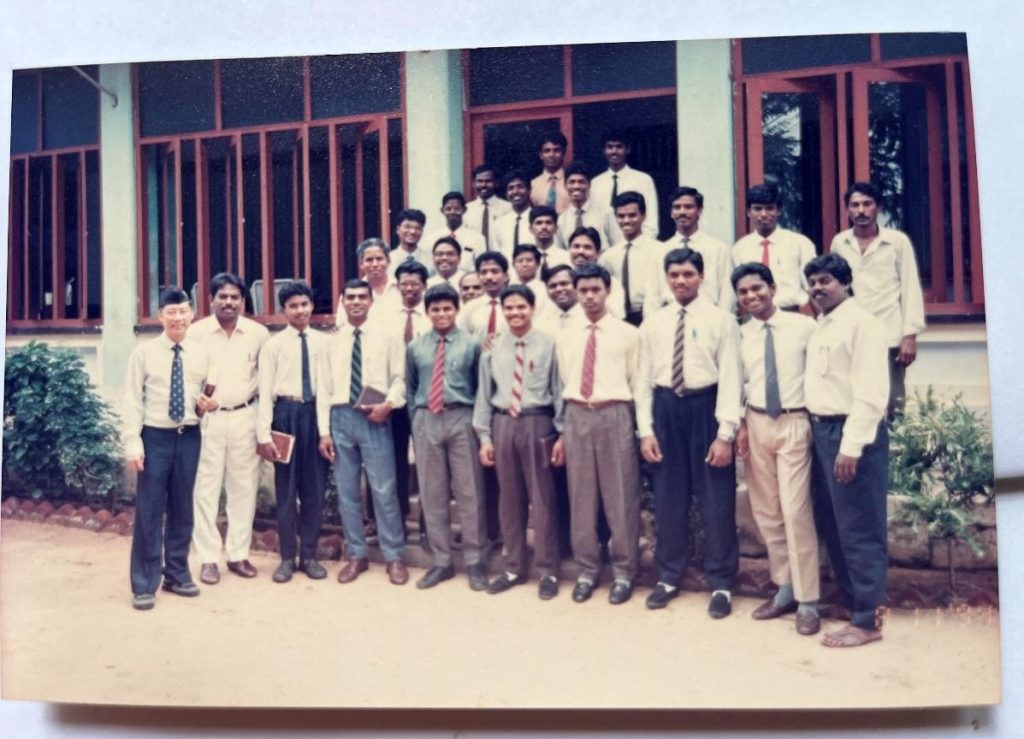 Gathering, Nurturing and Flowering Ministry
These days, Philip mainly focuses on serving in SGM. "The objective of Wesley SGM is to gather, nurture and flower Small Groups, which aligns with what I feel God has led me to."
"Although I have served and am still serving in various ministries, I am most active right now in SGM. Small Groups are all about sharing lives. It is about journeying with our Christian brothers and sisters to eternity. I think that it is so important to be able to have someone to journey with. Life is never smooth, and there are always ups and downs. But Christ also promised us that He would not give us beyond what we can bear. Our friends in Small Groups can make what we are going through easier to bear through our community fellowship, deep sharing, and authentic reflections."
A Church is never about a building – a Church is a Christian Community of Believers faithfully practising God's love and care and Small Groups are the essence and the practical demonstration of Christ's presence here on earth, within our midst! If only all who attend church services are members of Small Groups (or Care Cells), no one would ever feel lost or left behind!
"I am also reminded the harvest is plentiful, but the workers are few from Luke 10:2."
Frances Lim, Pastoral Care Leader of SGM (Zone 11), described Philip as a gentle God-fearing man: "Philip is very busy with family and community work, yet always finds time to listen with much patience to his members. He has a real gift for encouraging and building up his Core Team members, often servicing and counselling individual members, even at inconvenient times. The Living Water SG grew from strength to strength and is now a vibrant, cohesive community!"
Lim Wee Lee, another member who works closely with Philip, said, "I met Philip during the Devotion in Groups campaign (DIG) in 2016. He had subsequently invited me to visit the Living Water SG."
She continued, "What impresses me is Philip's deep commitment to the church and his zeal for God's ministries. He has a good grasp of the scriptures and sound discernment of biblical precepts. His energy and dedication are amazing. Often, Philip will encourage my friends and me to get involved in church outreach projects such as the Jalan Berseh outreach and Wesley food fairs."
"Philip cares about and focuses on people authentically. He often urges us to have fellowship meals, in small groups, to build relationships and conduct short mentoring and sharing sessions. His presence at our Small Groups sessions provides a balanced view of the Scripture, often clarifying contentious points."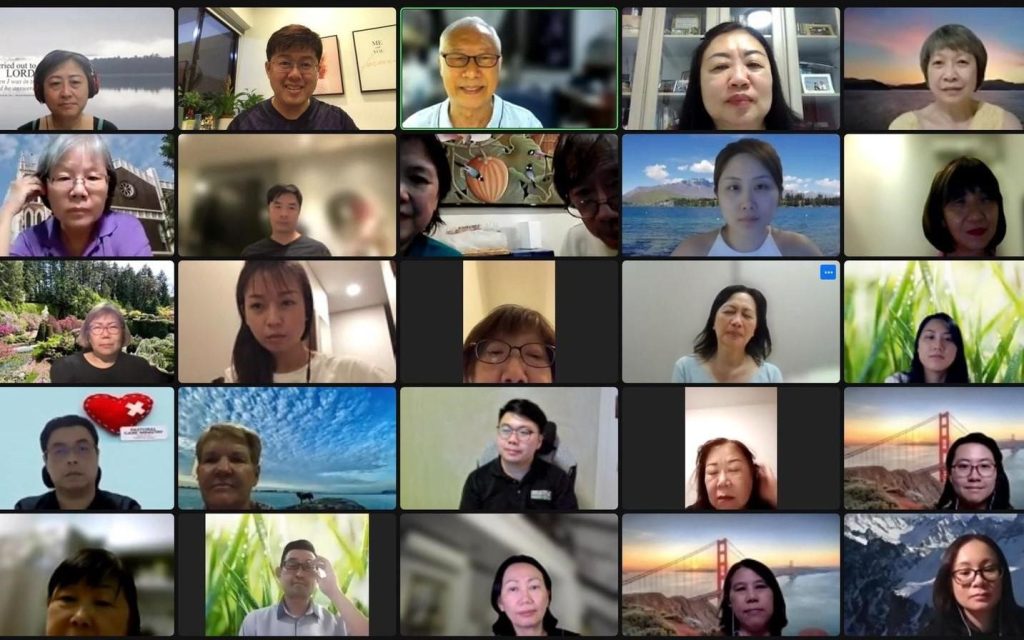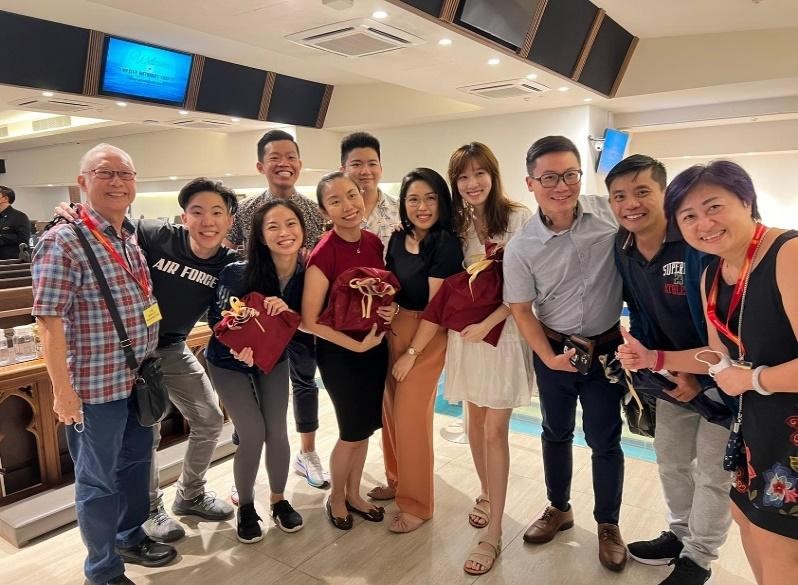 Said Gerhardine, PTM, "A person like Philip, who serves so humbly and wholeheartedly, is hard to come by. We thank God for a brother like him."
Once in a while, we meet an exceptionally enthusiastic, encouraging and edifying servant-shepherd of the Lord. He perseveres and patiently stays on the course for the extension of His Kingdom. Philip is a faithful beacon of humble servanthood for God's service.
When asked what propels him to step out to start the Living Water SG and then go on to 'gather, nurture and flower' the current 12 Small Groups, Philip had this to say with a laugh:
"Just two words — Trust God."
"And I still try to attend each of my 12 SG sessions whenever possible."
Are you looking for a group of like-minded individuals to journey and do life together? Find out more on Wesley Methodist Church – Small Groups. Come, join a Small Group today! Scan this QR code to join a Small Group. To contact us, please email smallgroup@wesleymc.org.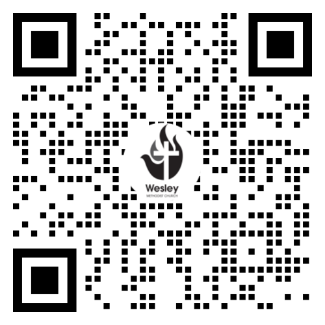 Read also: A Servant Leader in Small Group Ministry