This article was first published in Wesley TIDINGS, November 2021.
Staying Connected with our Seniors during the Pandemic
At Wesley Methodist Church, the seniors' community is very important to us.
Our vision and challenge at the Wesley Glowing Years Ministry (GYM) is to have Spirit-led seniors fulfilling God's purposes, making disciples for Christ and be His channels of love and blessings.
Growing old gracefully may present many challenges, but in Isaiah 46, we are assured of a God who remains faithful in every change. His steadfast love will see us through our life.
As GYM celebrated its fourth year as a ministry, I am grateful to God for the ways
He has encouraged both our seniors and volunteers spiritually, mentally and physically, and led GYM. With its nine sub-ministries, we strive to stay relevant and be His channel of blessings.
GYM and Covid-19
It has been almost two years since Covid-19 hit our shores.
Looking back, things had been difficult for the seniors initially as many were caught by surprise, coupled with a fear of uncertainty and the unknown. Today, I praise God for His love and grace in seeing GYM thus far through this global crisis.
In challenging times like these, it was clear to me and my team that GYM had to try to do things differently.
New Ways of Doing Things
Firstly, GYM needed to have a renewed attitude: In difficult times like these, connecting with the GYM seniors and listening to their stories, have taught me how to view our present crisis.
Many seniors pressed on in life with God's strength because of His faithfulness in their lives. Their delight is in God's Word, be it through devotions, sermons, messages or prayers. They try to stay positive, connected and relevant in this digital age which teach them to be more
appreciative, encouraging and understanding of each other within the family, to be more gracious and mindful of each other's needs.
The pandemic has reminded us of the need to check and re-define our values in life and renew our spiritual relationship with God."
Secondly, we need to have new ways of doing things: The GYM committee has had to relook at life and daily operations from a fresh perspective. This led to the restructuring of our past programmes to meet the present needs of a cross-section of seniors, as well as to adhere to measures aimed to curb the spread of the virus. Technological features like Zoom, YouTube and the Internet have been utilised to bring blessings to the ministry.
Thanksgiving Despite the Pandemic
Our new prayer foci include the emergence of daily group prayers for the Covid-19 situations around the world, our church, the community. We had also circulated individual devotionals which have received overwhelming support from our GYM community and encouraged many.
I thank God for the many seniors who rose to the occasions to serve, lead in community prayers and projects, and make time to care, connect, encourage and pray.
Even during the pandemic, God has shown His faithfulness and united the hearts of the GYM community in making various projects possible in the last year.
About Wesley Glowing Years Ministry (GYM)
The Wesley Glowing Years Ministry (GYM) has about 200 members. Currently, GYM's oldest member is 103 years old, and the youngest, 48. It was previously known as Wesley Senior Fellowship (WSF) and renamed Wesley Glowing Years Ministry (GYM) in 2018.
GYM's predecessor, Wesley Senior Fellowship (WSF), was started in 1980 by several faithful elderly seniors. Many of its members came from Peranakan background. They were a tightly knit community and enjoyed many activities like Bible study, singing, travelling and visitations. In the early years, the annual highlight was the year-end Christmas event which had attracted close to 120 attendees.
Within GYM, there are several groups and sub-ministries.
In 2014, the ukulele group Le L'Uke Ukulele Group was started by Francis Ngui for the seniors. Le L'Uke is a name derived from Luke the Gospel, signifying that it's a Christian group. The same year, WSF started to plan for providing help to the less mobile seniors in Wesley Methodist Church. The group became more active in 2016 to provide aid to those who are less mobile: in August 2016, three passengers made a maiden journey by wheelchair to the Gardens by the Bay.
Another group in GYM is the Blessings Craft (BC). It was started and spurred on by a Trinity Annual Conference (TRAC) event held at Wesley in 2017, during which creativity in craft was required and much appreciated. BC is a recognition of the creative gifts God has imparted to many of His people in GYM. BC hopes to show that this ability that God has given us should never lay idle or be wasted.
Currently, GYM has nine sub-ministries (see pictures below).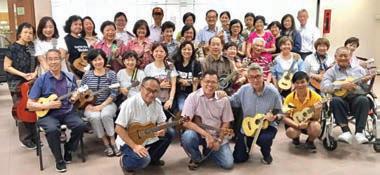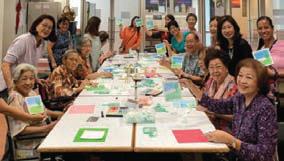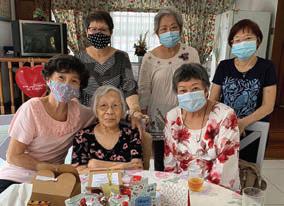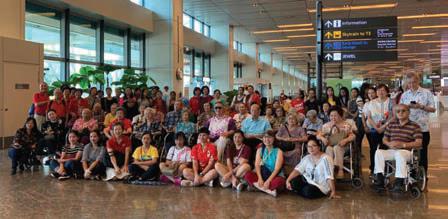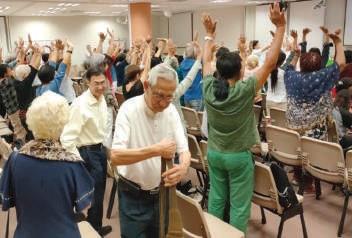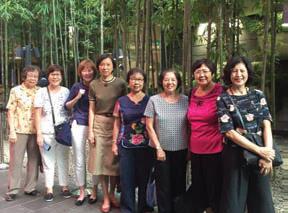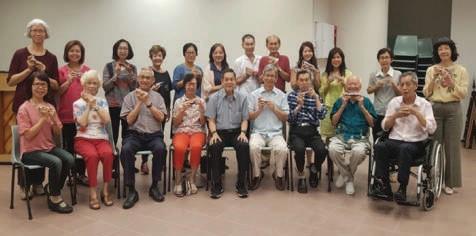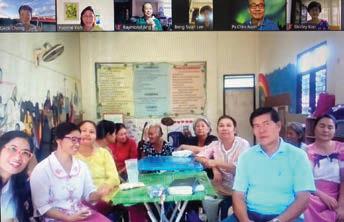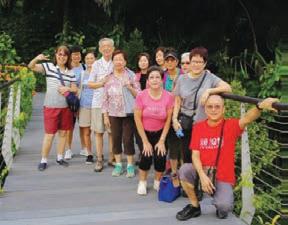 If you wish to find out more about Wesley GYM, please reach out to us at: maureenh@wesleymc.org